Contest
2019 Video Contest ~ Create a Fake Movie Trailer!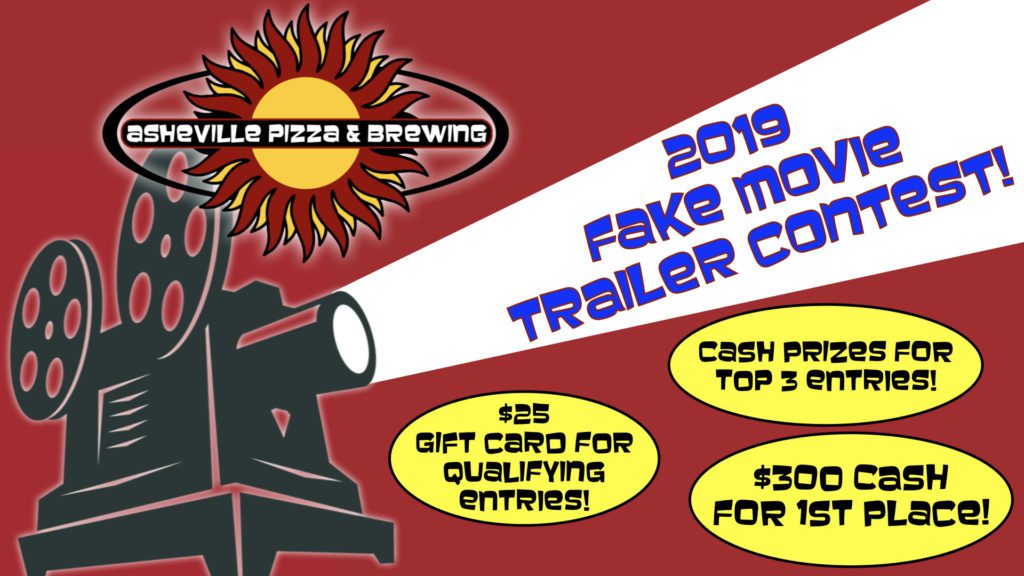 It's time for Asheville Pizza & Brewing Company's annual video contest to support local filmmakers!
Cash prizes for the Top 3 videos and a $25 gift card for every qualifying entry!
We're accepting submissions now through November 10th ~ Read guidelines & rules below
2019 ENTRY DETAILS:
Create a fake movie trailer for the movie genre of your choice
The trailer can be based on a fictional story you create or based on an existing movie "world" only if meets the CONTENT & VIDEO FORMAT GUIDELINES below.
Entries are accepted until Sunday, November 10th at 11:59 pm
Winners will be announced mid-November
We will show accepted entries in the pre-show entertainment before our movies and also on our Facebook and Instagram pages.
By entering our contest you accept Asheville Brewing Company can share and screen and use your video in whatever method we want. Of course, you still own the video and can share it however you like.
$25 GIFT CARD FOR APPROVED ENTRIES:
All entries that fully meet the Content and Video Format Guidelines below will receive a $25 Asheville Pizza & Brewing Co. gift card that can be used at any of our locations on food, beer, movies and merchandise.
Entries must be reviewed and approved by us before a gift card will be issued.
If the Content Guidelines are met, then we will contact you that the gift card is ready to pick up. Do not come in for the gift card until you have been notified.
Gifts cards will not be mailed, and can only be picked up at the main bar of our 675 Merrimon Avenue location in North Asheville.
If your video does not meet the guidelines, then we will allow you to re-edit and re-submit as long as you re-submit before the contest deadline.
PRIZES & AWARDS:
JURY AWARDS = 1st Place Jury Award = $300 cash / 2nd Place Jury Award = $150 cash / 3rd Place Jury Award = $100 cash
PEOPLE CHOICE AWARDS – We will post the final entries on both our Facebook and Instagram pages and allow our followers to vote on their favorite videos. The top vote getter on each page will receive a $50 Asheville Pizza & Brewing gift card.
CONTENT GUIDELINES:
We want to show these trailers in the pre-show entertainment before our movies, so please follow these rules.
No profanity, but the use of "hell" is acceptable.
No excessive violence or gore/blood
No nudity (partial or full) or sexual acts/references
Do not defame/insult any local business or organization in Western North Carolina.
Do not use footage/images/sounds from any existing movie, TV show, commercial, music, sound, photograph, image, artwork of any type unless the rights belong to you or you have been given permission and you can provide legal proof of permission of use.
VIDEO FORMAT GUIDELINES:
Aspect Ratio = 1920 x 1080
File Format = Quicktime (.mov) or .mp4
Sound Quality = Make sure the sound levels throughout the video are balanced and at the same level. No levels should be near the "red-line" level. You will have to fix high levels before your entry will be accepted.
HOW TO SUBMIT YOUR ENTRY:
When submitting your entry you must include your first and last name, email and the best phone number to use in case you do not respond to our email. Your information will not be shared with anyone!
Send your video file in whatever online file sharing method you prefer (Google Drive, Dropbox, FileShare, etc.) to this email: [email protected]
If you cannot enter via online, then you are welcome to drop off a flash drive containing your entry at the main bar of our 675 Merrimon Avenue location. Don't forget to include your name and contact information!
WANT TO FILM AT ONE OF OUR LOCATIONS?
To be clear, you DO NOT need to include any reference to Asheville Brewing or Asheville Pizza Co. in the trailer at all like the 2018 Contest.
If you want to use one of our locations to get a few very quick shots, then contact us at the email below to go over when and what you are allowed to film.
DO NOT SHOW UP AT A LOCATION TO FILM WITHOUT PERMISSION! You will not be allowed to film at all. Remember, we are a business and cannot have people running around with cameras unless we approve.
HAVE A QUESTION?
EMAIL US at [email protected] with any questions you have, and we'll respond as soon as possible.
PLEASE DO NOT CALL OUR LOCATION WITH QUESTIONS! Our staff does not know the answer to your video contest questions.