Short Video Contest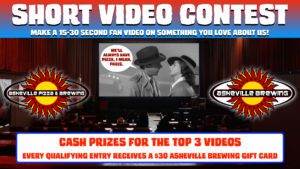 THE CONTEST HAS ENDED… our judges are now reviewing all of the entries, and expect to announce the winner by Friday, September 7th.  Everyone who entered the contest will notified of the judging results via email.  Please do not call our locations asking for the winners as our staff does not know.
Create a short, 15-30 second video about your favorite aspect of Asheville Brewing Company. Winning videos & our favorites will be shown in the pre-show entertainment before our movies at Asheville Pizza & Brewing and shared on our social media giving you full credit. 
It can be about whatever you love about us including pizza, movies, beer, our locations, our movie designed tables, the game room, our family-friendly approach or even our new taco shop, Asheville Tacos & Taps.
Maximum of 15-30 seconds in length

Content/language must be appropriate for all ages, but feel free to make your video a little kooky, crazy & fun.

1920×1080 resolution with clear, high quality sound

Deadline to send in video is August 31 at 11:00 pm.

CONTACT US with questions, logos/images, video upload information, and if you need to film at our locations at the email: [email protected]
1st Place = $250 cash

2nd Place = $100 cash
3rd Place = $50 cash
Every entry that meets contest guidelines receives a $30 Asheville Brewing Co. Gift Card to be used on food, beer, merchandise and movies at our locations.

Once your video has been received and checked that it meets guidelines, then we'll have your gift card waiting at our Merrimon Avenue location to pick up.
Send us your video with whatever method you prefer being FileTransfer, Dropbox, Google Drive, etc. to [email protected] ALSO, don't forget to give us your name and the best method to contact you.
DO NOT SHOW UP TO A LOCATION TO FILM WITHOUT CONTACTING US FIRST.
It is possible to shoot at a location, but of course with certain restrictions because we still have to operate as a business and serve customers. Therefore, it will not be a controlled environment for you as far as audio, lighting or blocking off a part of the location. It's better to shoot in a fast, using natural environment, guerrilla style. Contact us with your idea at [email protected], and we'll figure out the logistics.