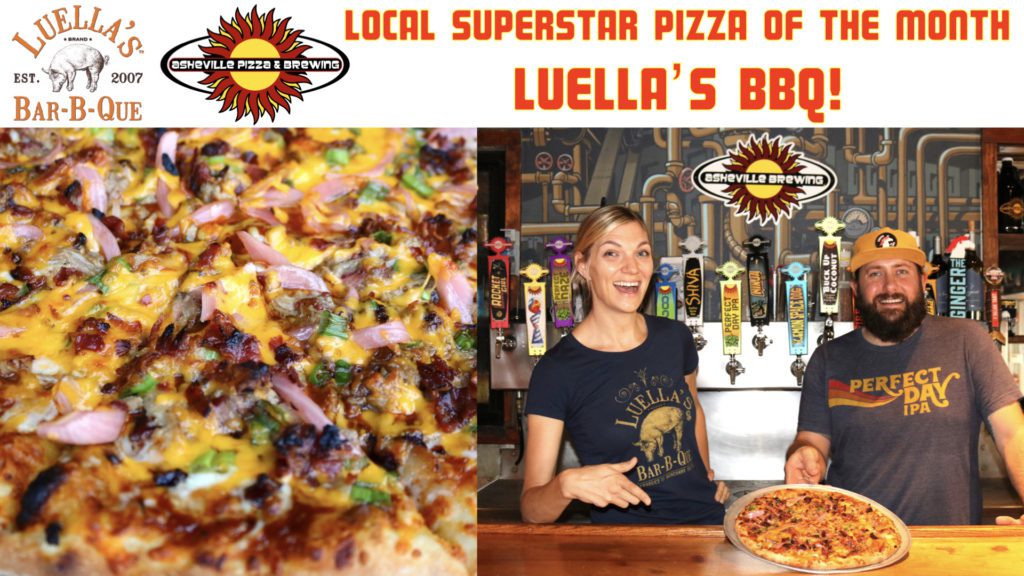 Available ONLY at our 675 Merrimon Avenue location every day after 5:00 pm!
Summer's superstar pie is the Luella's Pie, a collaboration between chefs Jeff Miller of Luella's Bar-B-Que and Nick Izzo of Asheville Pizza Company.
The pizza has Luella's sweet Pisgah barbecue sauce as the base. Then, it's topped with Luella's delicious pulled pork and chopped brisket. Bacon, pickled red onion, green onions, and local hoop cheddar cheese plus a three-cheese blend round out this mighty meaty creation.
The Luella's Pie is available to order every day after 5:00 p.m. (dinner time only) through August 18th for $19.99. Only a certain number of these special pies will be available each day, so come in early if you want to score one. You can pick up this pizza, but we can't deliver it.  
Previous Asheville Pizza collaborations have been with with Rocky's Hot Chicken Shack, Chestnut, Bouchon, Strada Italiano, and Aux Bar restaurants.
 "We try to stay one step ahead on pizza recipes," says Mike Rangel, Asheville Pizza & Brewing president. "We're so honored to have some of these local culinary superstars work with us. We've gotten a great response, and we will continue the fun by continuing to collaborate with our restaurant friends."
VISIT OUR FRIENDS AT LUELLA'S BBQ AT THEIR NORTH & SOUTH ASHEVILLE LOCATIONS!
Stay tuned for the announcement of who we're collaborating with for our September local superstar pizza!