Black IPA | ABV: 6.5 %
To celebrate the rare solar eclipse that will take place across America on 8/21/2017, Asheville Brewing has created a rare and special beer: Perfect Night Black IPA.
Perfect Night is a tasty twist on the brewery's beloved Perfect Day IPA. A different yeast strain and slightly different hop bill plus dark malts make this beer black as night time during the day. The malts add a roasty chocolate flavor to this aromatic, complexly hop-forward IPA.
A dollar from every Perfect Night pint sold will benefit the Asheville Museum of Science (AMOS).
"We couldn't pass up the opportunity to make a beer for the solar eclipse and to partner with Asheville's cool science museum," says Asheville Brewing head brewer Pete Langheinrich. "You can drink a Perfect Day before the eclipse, then have a Perfect Night ready for the eclipse, then go back to Perfect Day. That's my plan, at least."
This small batch beer will be available only on draft, but you can pick up a growler to take Perfect Night with you wherever you're watching on August 21.
"AMOS is excited to collaborate with Asheville Brewing as we look forward to celebrating this incredible celestial event with the community," says Cory Van Auken, Asheville Museum of Science marketing manager. "Having the opportunity to observe a 99% solar eclipse in our backyard is a truly once-in-a-lifetime experience, which deserves its own beer."
On August 21, the museum will host Asheville's Solar Eclipse Festival, 99% Eclipse of the Park, at Pack Square from noon to 3 p.m. They will offer fun watching and educational activities, plus music and entertainment. There will not be beer at the Festival, but once the sun reappears, come to Asheville Brewing to enjoy a Perfect Night and to debrief your experience seeing the stars come out during the middle of a summer day.
Pairing Notes:
Perfect Night Black IPA pairs well with Moon Pie pizza, dark chocolate, and Fingers of Fire chicken strips.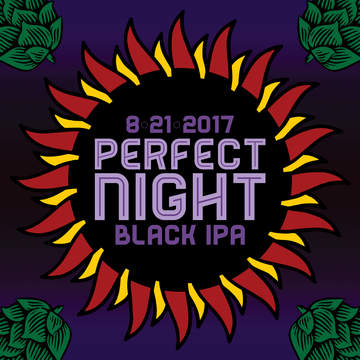 Perfect Night IPA is available at: