Wheat Ale | ABV: 5.3 %
|
IBU: 13
|
SRM: 3
Asheville Brewing Company's refreshing seasonal wheat beer is right on time for lemony summer deliciousness. We updated the recipe in 2017 by adding fresh lemon zest to gently increase the citrusy aroma and flavor created by the Lemondrop hops. Wheat creates a perfect balance for this thirst-quenching brew. We love lemons, space, and dogs–making this a particularly special beer! This beer is named in honor of the first dog to go to outer space, Laika, who rode Sputnik 2 in 1957.
Lemon Space Dog will be released on draft at all of our locations on Friday, May 19. It will be available the next week on draft at your favorite Western North Carolina watering hole, and soon after that in 12-ounce cans for all of your outdoor summer adventures.
Pairing Notes:
Pairs well with any summer salad, especially our Zorba the Greek. This is a great brunch beer as well.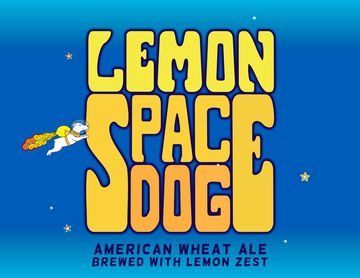 Hops: Lemondrop, Northern Brewer
Lemon Space Dog Wheat is available at: